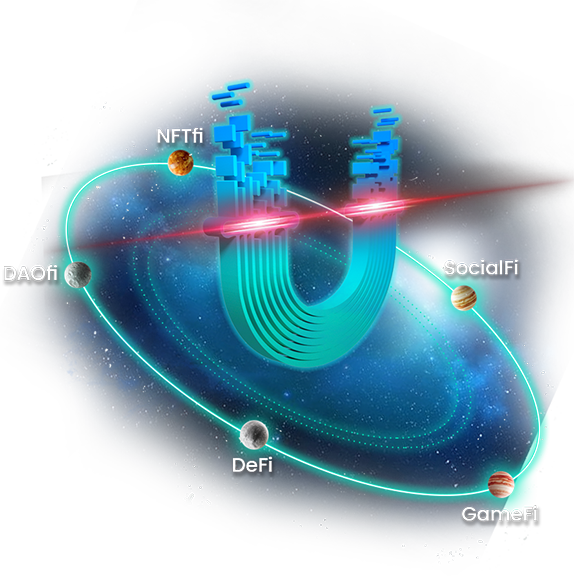 DeFi
The diversified closed-loop finance of YouCoin will be used in diverse financial features like Exchange, Bank, Lending & Borrowing, Minting Stablecoins, Mining Pool, Lottery, etc. These decentralized finance projects will have privacy features and run on the YouCoin Metaverse.

GameFi
With the gaming features, users can earn while they enjoy the game competition through the Play-to-Earn element. The YouCoin Metaverse has a gaming ecosystem and will contain land, resources, and props. All of these will be minted as unique NFTs that can be accessed by trading $UCON.

SocialFi
YouCoin will provide a space for professional and social occasions. Experience points can be accumulated through effective social interaction and used in DeFi, GameFi, NFTfi, DAOfi, and other features on YouCoin. It will allow you to participate in social-to-earn (S2E) functionality.

NFTfi
YouCoin will issue artistic NFTs. Every character, equipment, prop, and land in the YouCoin game will be NFTs. You can put your NFT assets up as collateral for a loan, or offer loans to other users on their NFTs in NFTfi. These NFTs can be from other chains such as ETH, BSC, etc.

DAOfi
The Super DAO is a scalable DAO governed finance platform built on YouCoin Metaverse. Super DAO can initiate proposals for the governance of the YouCoin ecosystem. The token economy formed for $UCON holders is a new strategy of creating a self-sustaining ecosystem.